Adored Beast Felix's Flora | Species Appropriate Probiotic (40g)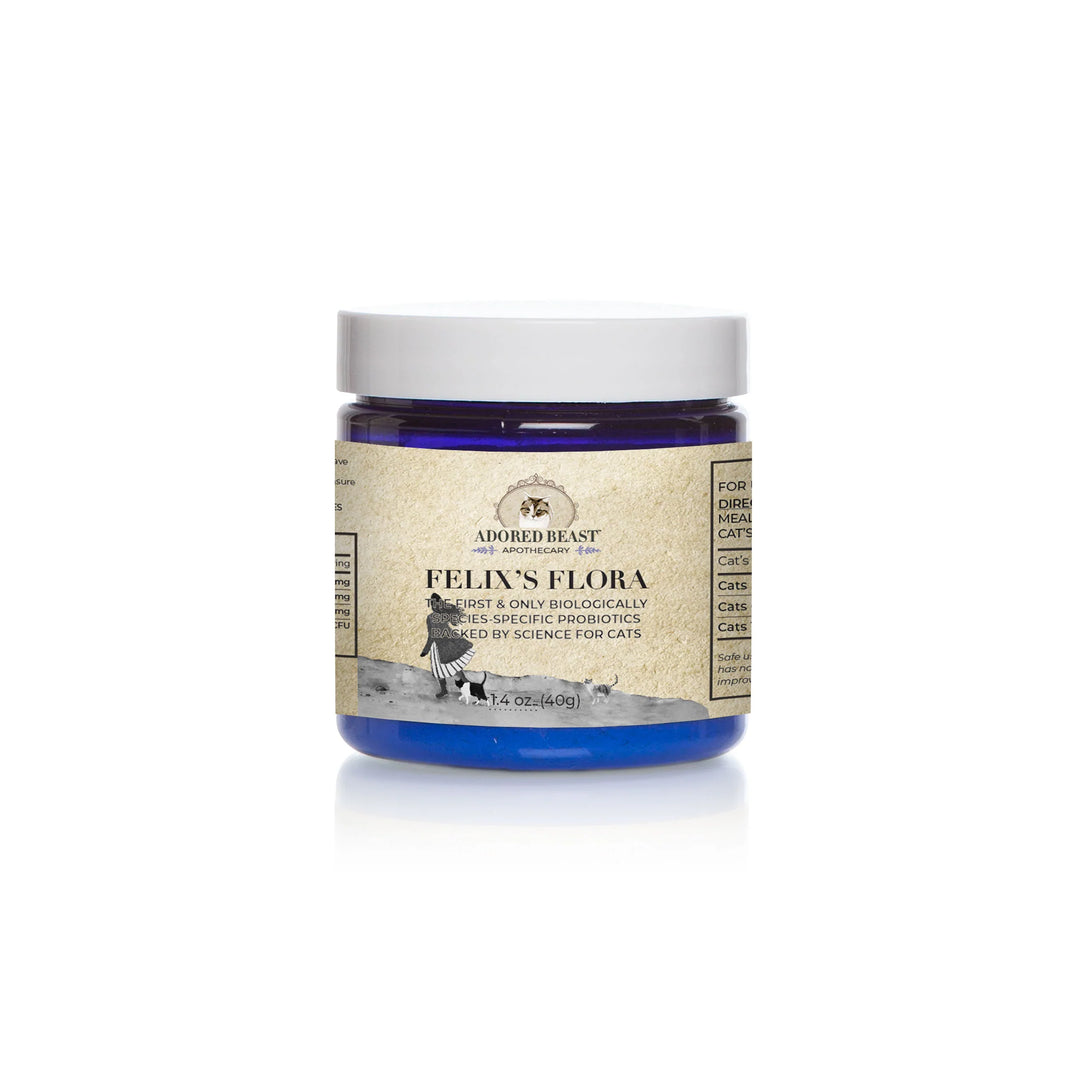 Adored Beast Felix's Flora | Species Appropriate Probiotic (40g)
Expiry date: April 30, 2025
Regular price
$65.00
$65.00
Create an account, earn FP Stars and save!
Fast ship-out within 2 work days
In stock, ready to ship

Inventory on the way
The first & only biologically species-appropriate probiotics backed by science for cats. This revolutionary product from cats, for cats, is a multi-strain probiotic blend featuring powerhouse minerals fulvic and humic acid and prebiotic larch.

~ Feline Strains
These probiotics are the only probiotics that have been scientifically proven to be viable in the cat's gut. Intensive research to show ability to suppress pathogenic bacteria such as salmonella, e-coli, clostridium. Our science also shows an uncanny ability to modulate the immune system.
~ Humic and Fulvic acids
These ancient organic minerals are vital for cell health and longevity, and aid in the removal of toxic minerals and heavy metals. Humic Acid also fights inflammation, hampering malignant changes in cells. It promotes prime absorption of food and supports the immune system. Fulvic Acid creates more permeability to the cell membrane allowing a greater body of bioavailable nutrients to actually enter the cell, and is paramount in assisting the body with the natural action of removing toxins.
~ Multi Strain Probiotic Blend
Probiotics enhance the immune response of the digestive tract. Lactic acid bacteria produce lactic acid which inhibits yeast growth by lowering intestinal pH and blocks the receptors or adhesion sites of pathogens, creating a barrier against infectious organisms. 2 billion allergen-free CFU (colony forming units) to defend against harmful gut bacteria by repopulating the digestive system with friendly bacteria.
~ Larch Arabinogalactan
Prebiotic Larch Arabinogalactan is a Larch tree extract that supports colon health. It is often used as an effective adjunct to cancer therapies due to its ability to stimulate the immune system and block metastasis of tumor cells. Its uses in people include chronic fatigue syndrome, viral hepatitis, HIV/ AIDS, and autoimmune diseases. It is also commonly used for infections.