Dermoscent - Essential 6 Spot-On For Cats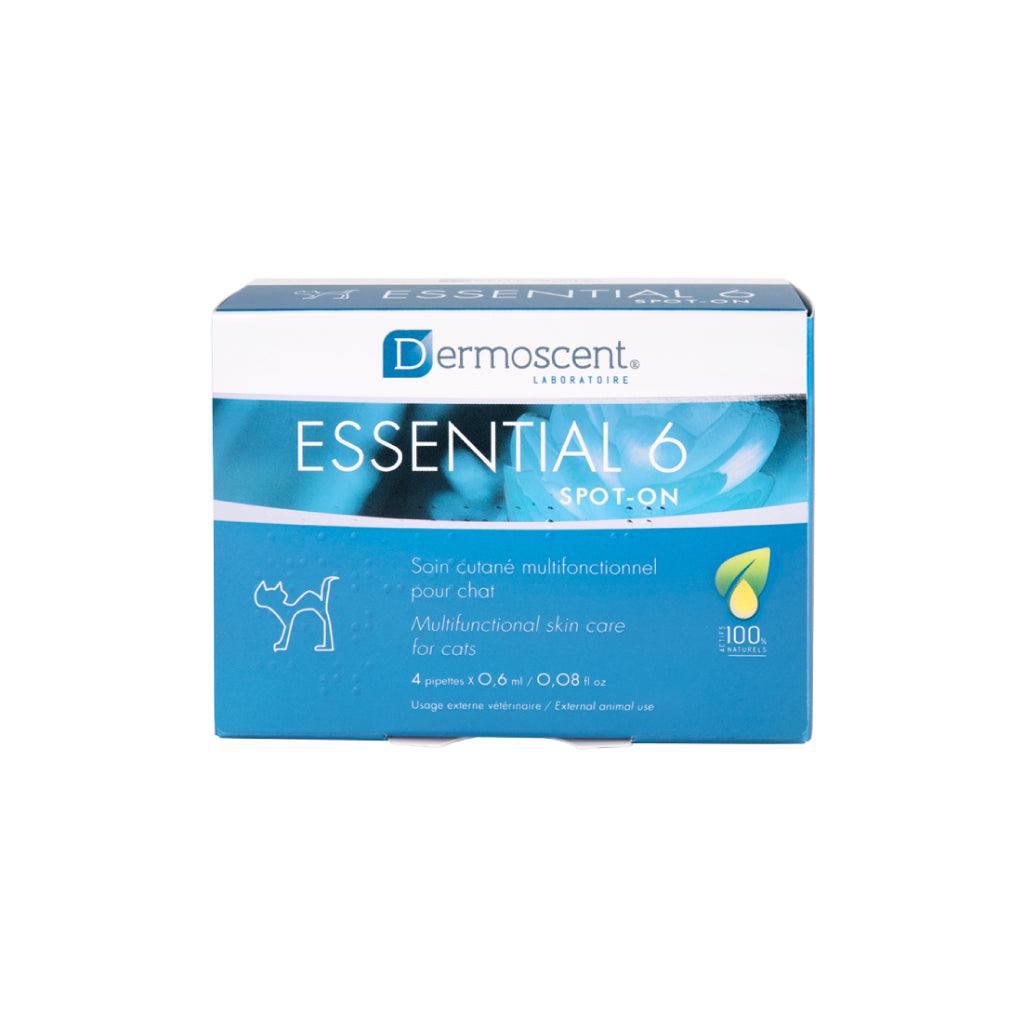 Dermoscent - Essential 6 Spot-On For Cats
Regular price
$39.00
$39.00
Sale price
$35.70
$35.70
Create an account, earn FP Stars and save!
Fast ship-out within 2 work days
In stock, ready to ship

Inventory on the way
Essential 6® spot-on is the no. 1 spot-on dermo-cosmetic product for cats that provides a simple and efficient solution for cutaneous imbalances (also referred to as kerato-seborrhoeic disorders or problems) and their consequences: dull or brittle hair, dry or oily coat, bad odours, etc.
Each box contains 4 x 0.6 ml pipettes (for external use only)

Essential 6® spot-on is patented and it has no added fragrances, achieving no less than six different actions in one product:
•  restore the hydration level of the skin, reinforcing the skin barrier function,
•  enhance the shine of the hairs,
•  diminish hair loss (outside seasonal moult) and support the regrowth of hair.
•  reduce scales and dandruff,
•  deodorise, respecting the smell of the animal,
•  protect by way of its antioxidant activity.
Efficacy: Clinical studies have been carried out by veterinarians in 7 countries on 210 dogs and 79 cats. After one month of treatment, a remarkable improvement across several criteria has been established: Percentage of change between Day 0 and Day 28
| | | |
| --- | --- | --- |
| Dogs | Cat | |
| Fur shine : +80% | Fur shine : +76% | |
| Loss of hair : -65% | Loss of hair : -53% | |
| Presence of dandruff : -79% | Presence of dandruff : -79% | |
| Deodorising effect : +70% | | |
| Balancing effect (reduction of fatty/oily or dry appearance of the skin): +74% | Balancing effect : +74% | |