Pet Wellbeing - Comfort Gold - for Occasional Physical Discomfort in Cats & Dogs (2fl oz / 59ml)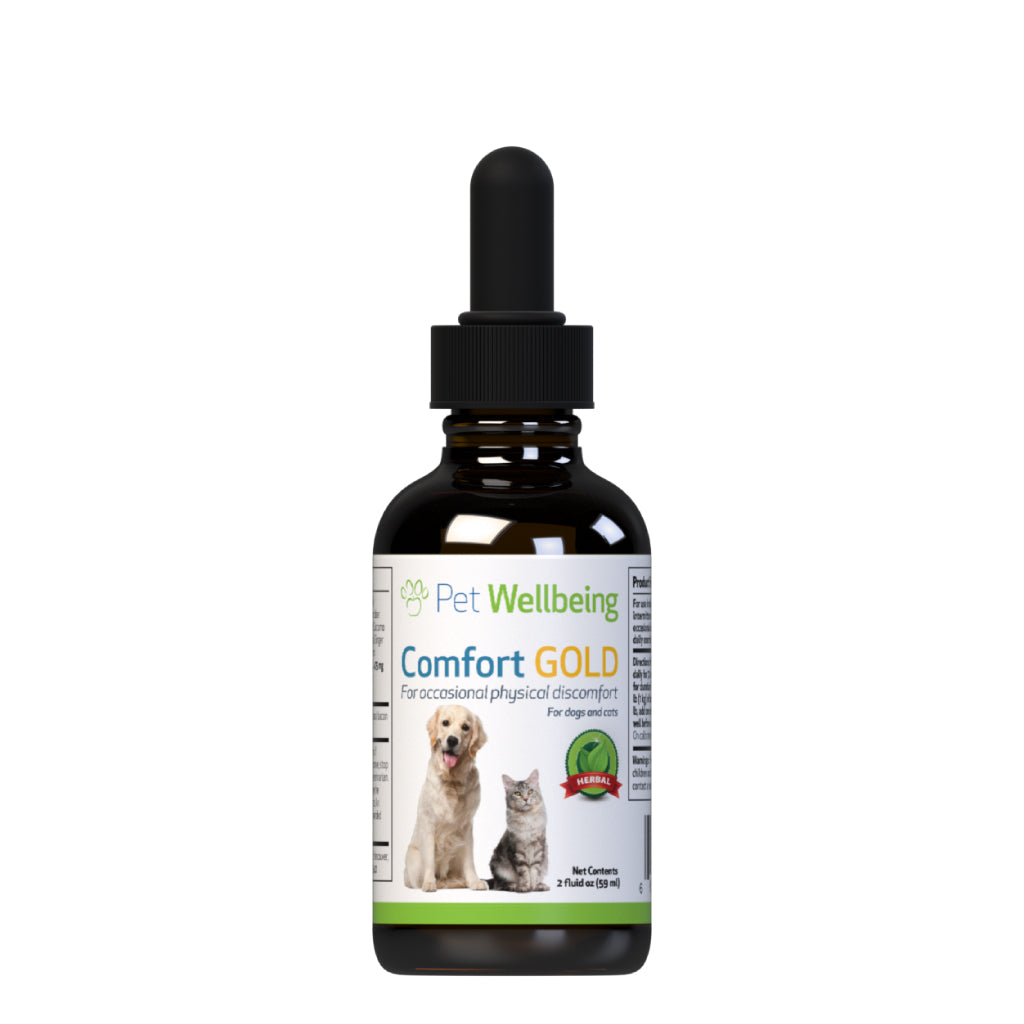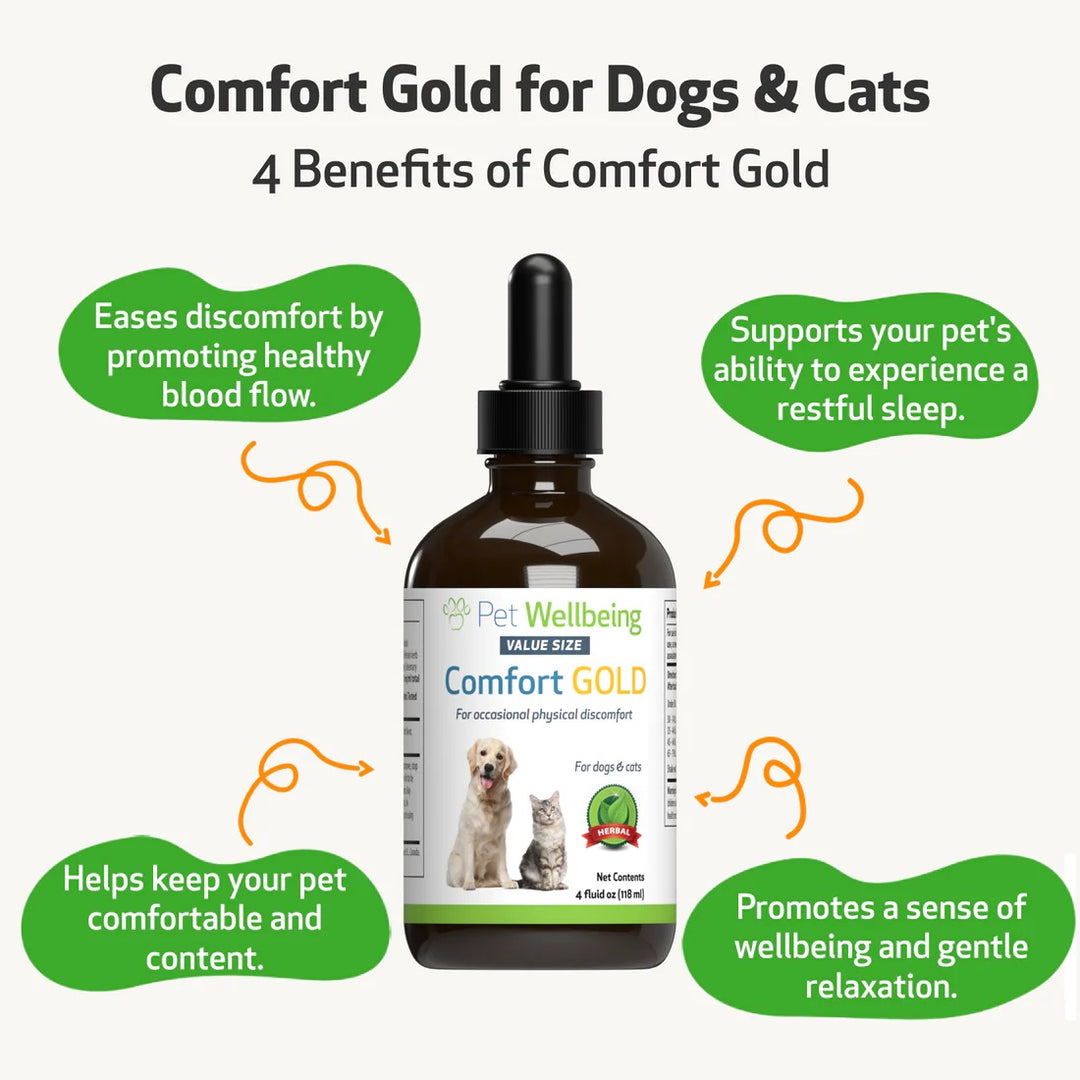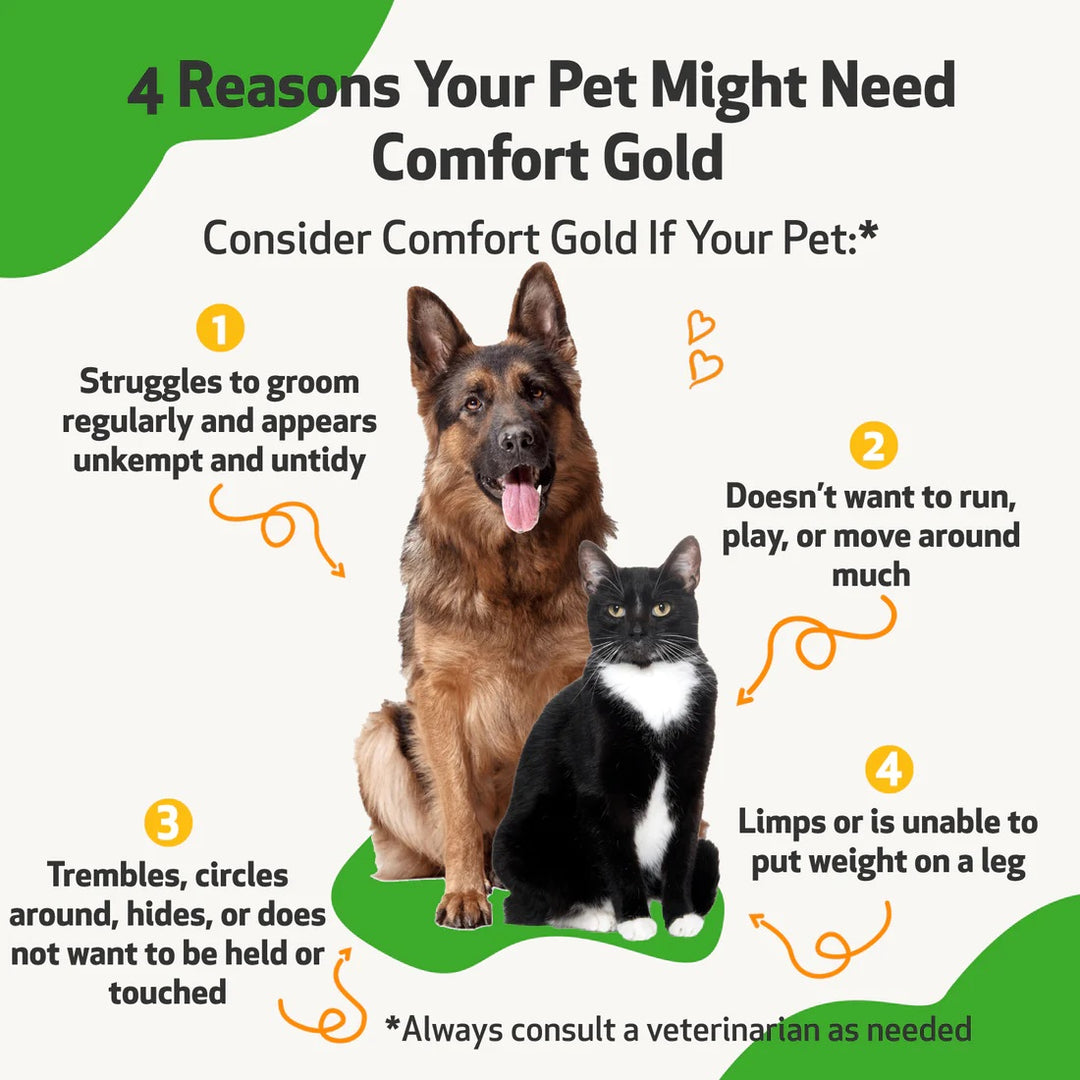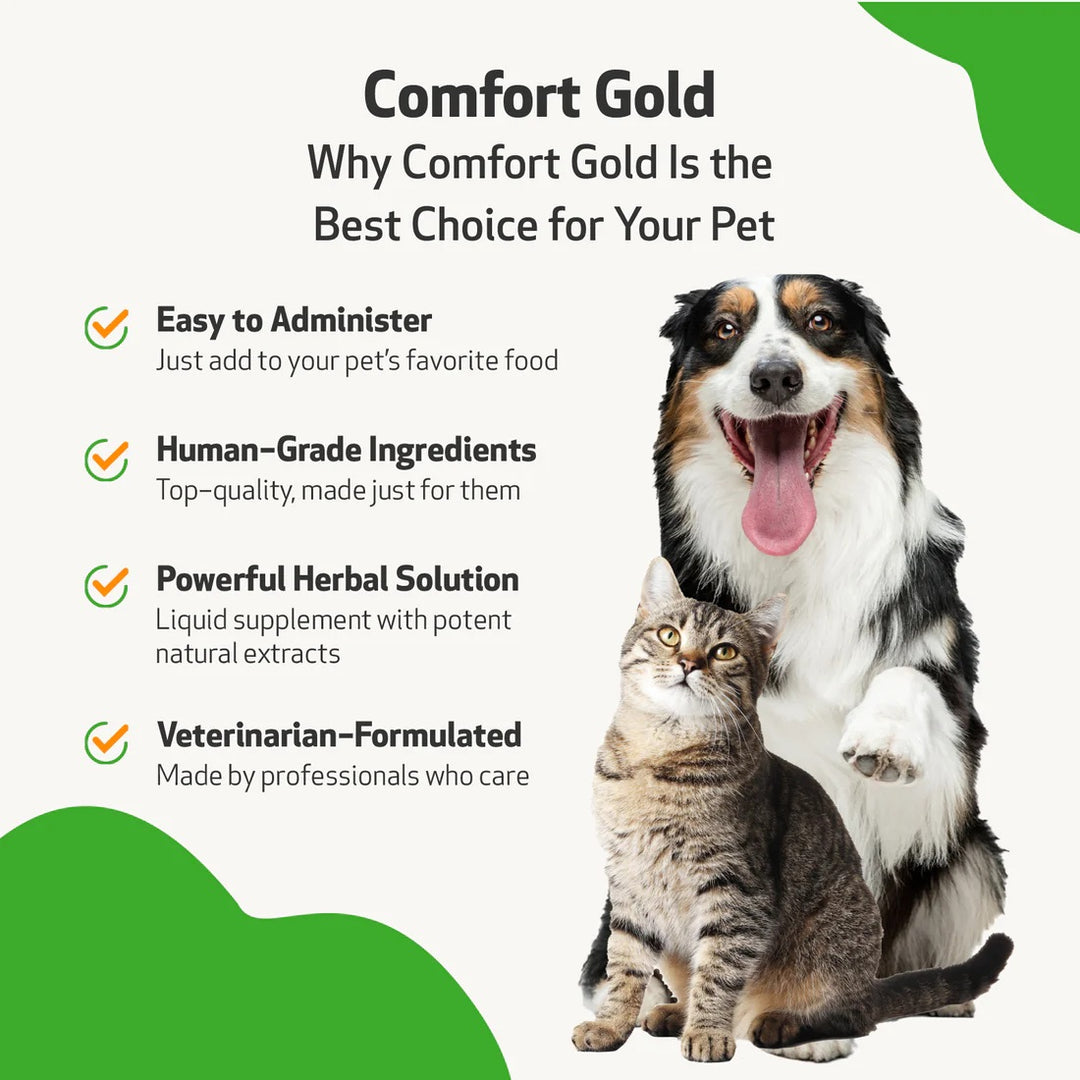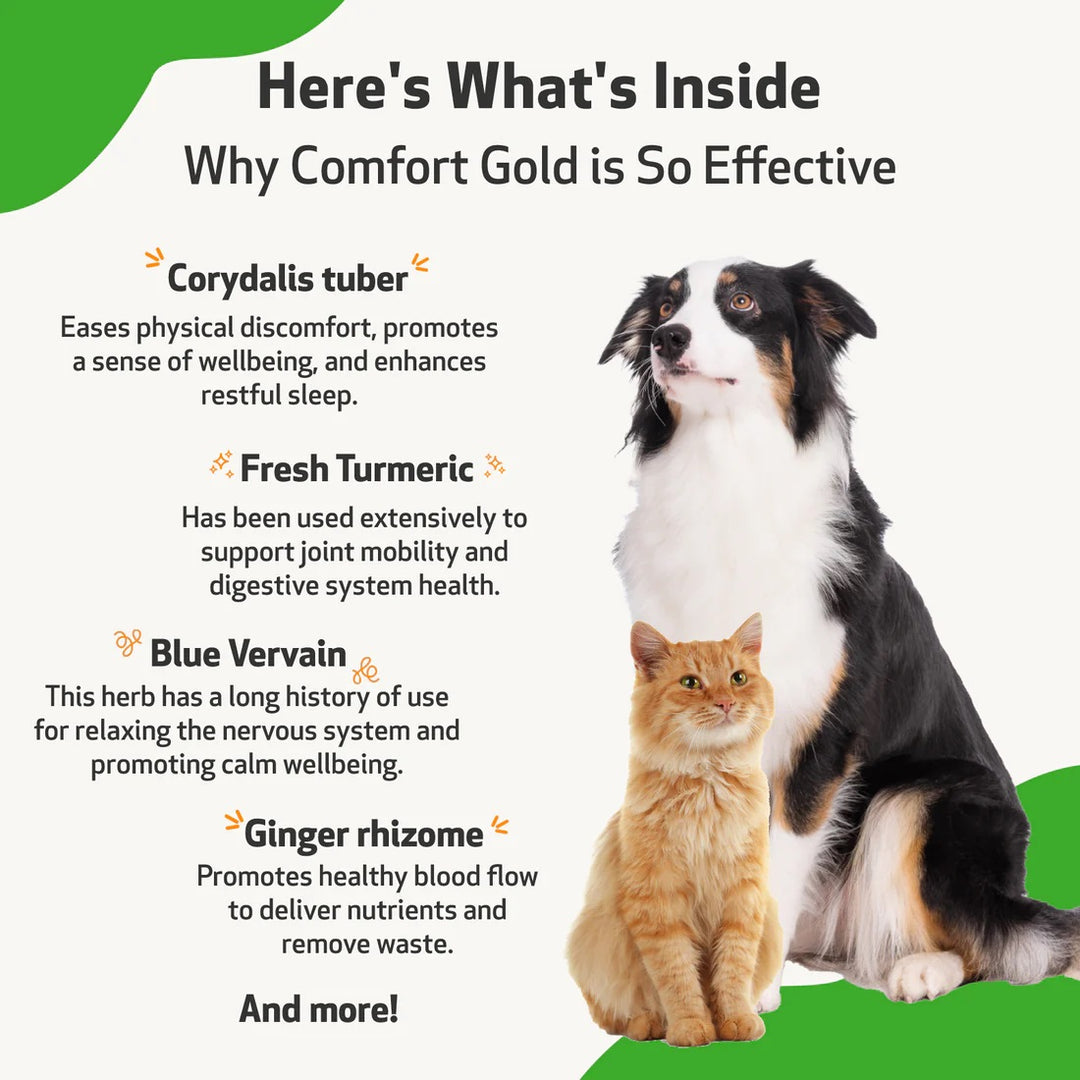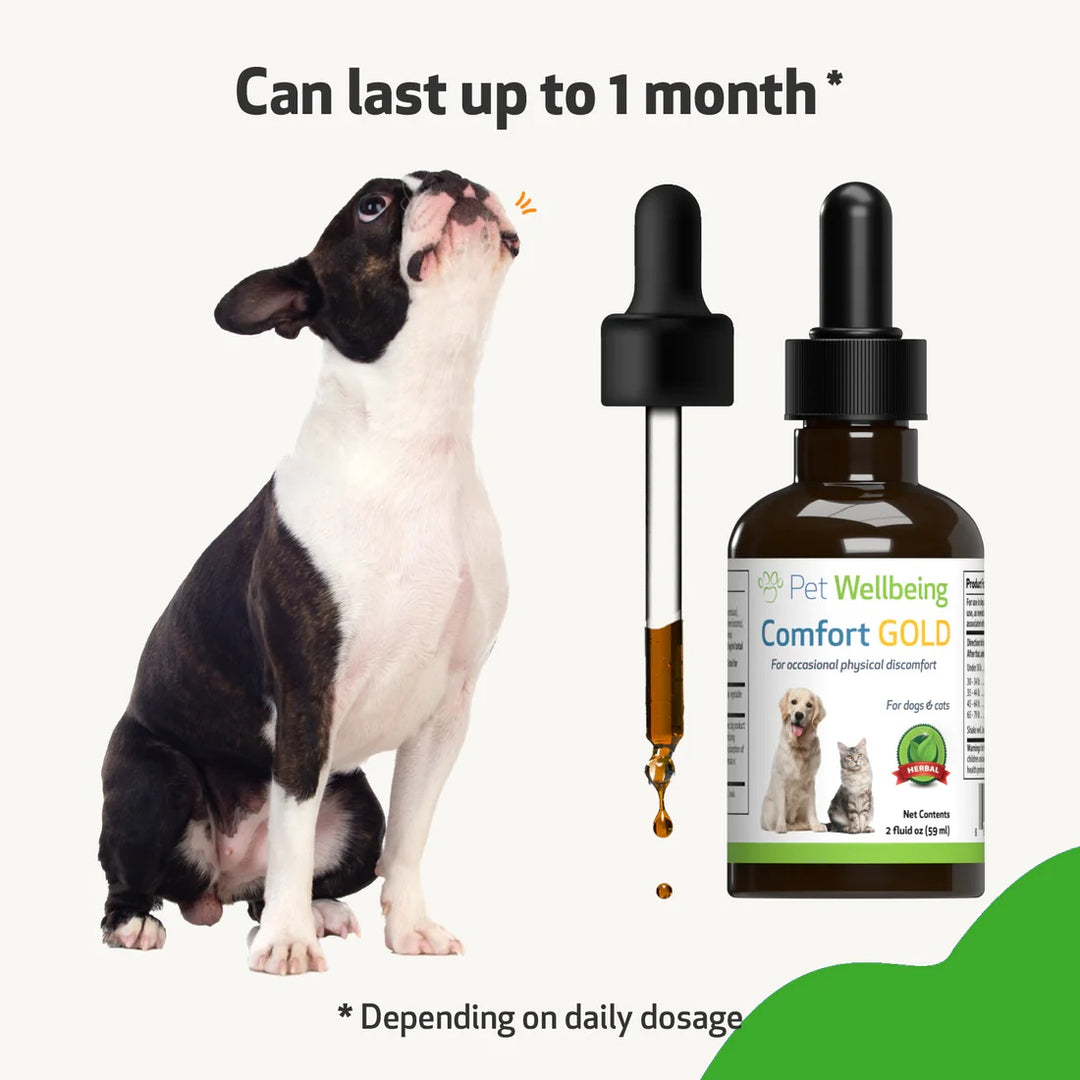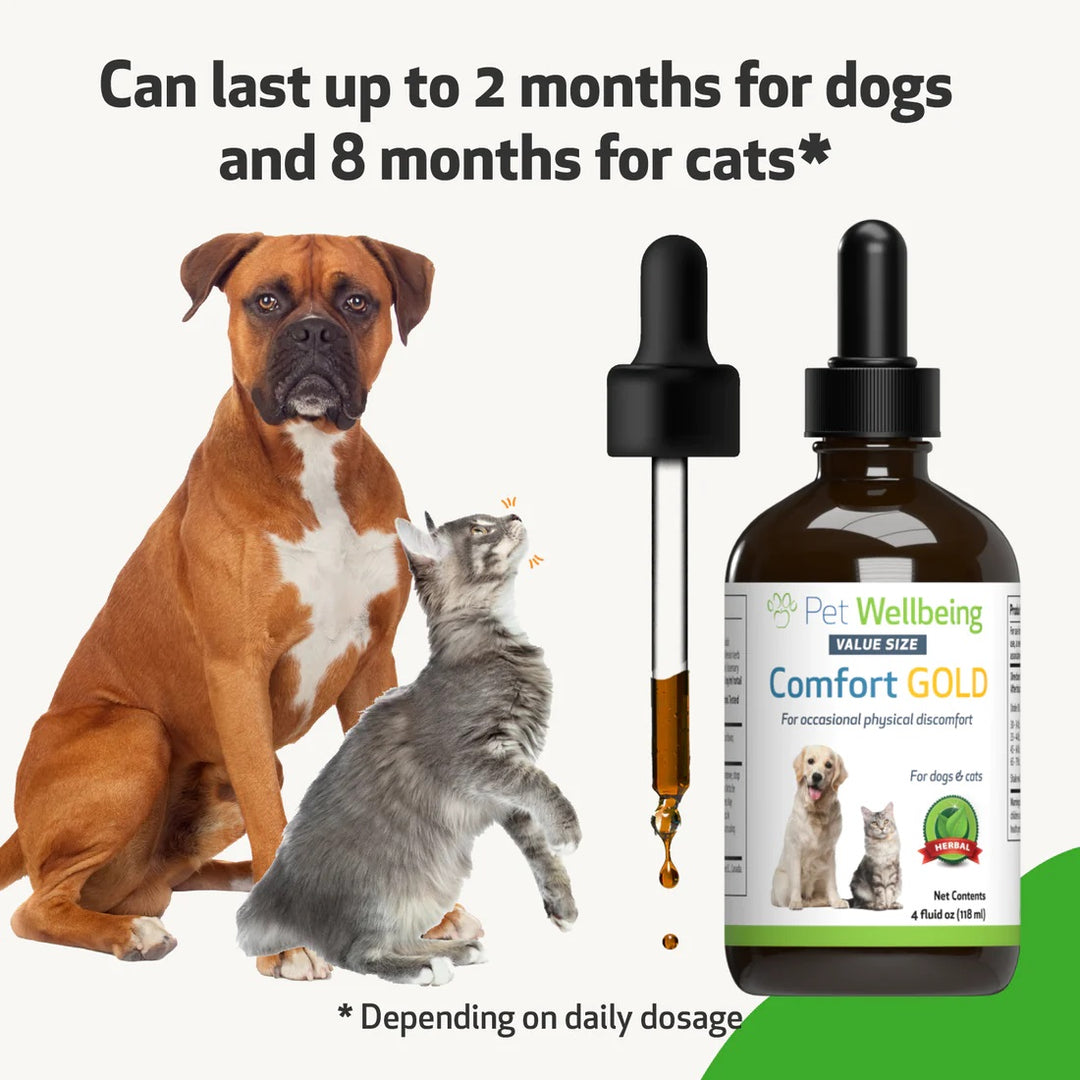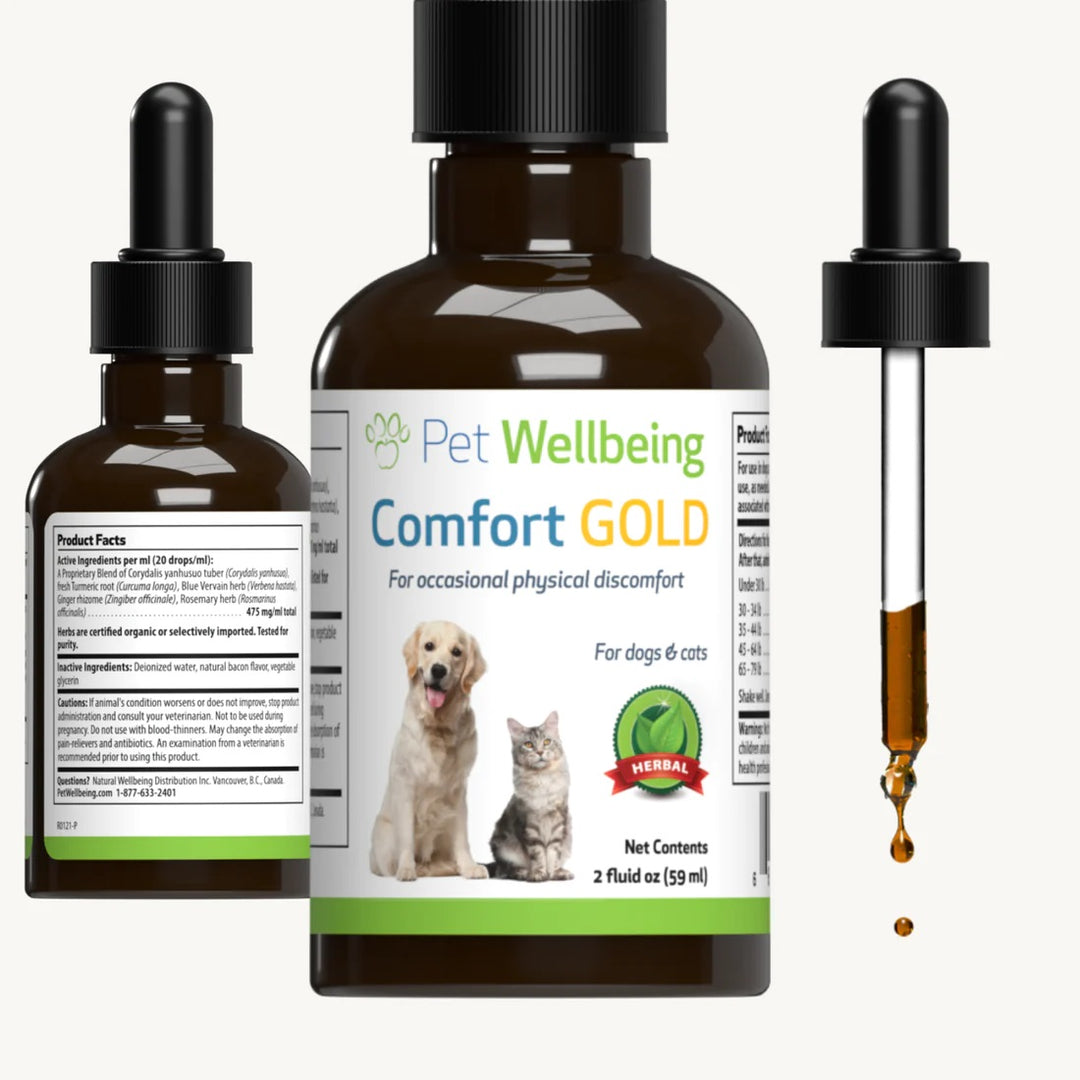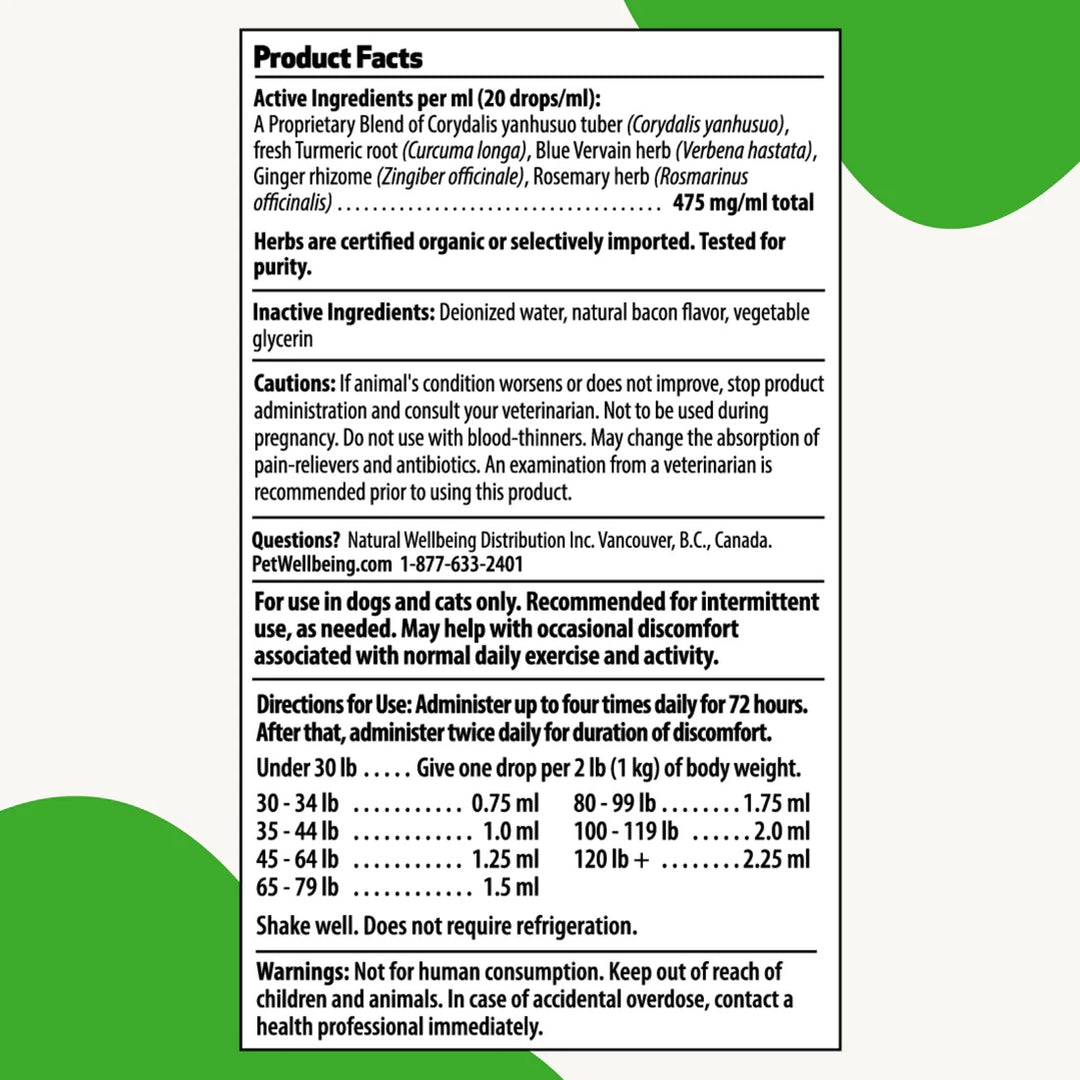 Pet Wellbeing - Comfort Gold - for Occasional Physical Discomfort in Cats & Dogs (2fl oz / 59ml)
Regular price
$65.00
$65.00
---
Expiry date: September 30, 2025
Enjoy 10% discount with 2 or more PWB products (excluding kits). Discount reflected on checkout page. Not applicable with discount codes.
Create an account, earn FP Stars and save!
Fast ship-out within 2 work days
In stock, ready to ship

Ready to ship December 18, 2022
What is Comfort Gold?

Comfort Gold is a proprietary combination of five herbs that work in unison to soothe your canine in times when discomfort is evident. A cause of discomfort can be associated with normal, daily activity.
Reduces discomfort in dogs by promoting healthy blood flow and movement
Supports healthy blood flow and movement
Supports your pet's natural ability to rest well
 Keeps your pet comfortable and content
No side effects, non-addictive and gentle on the stomach
Use intermittently, as needed
Contains certified organic and ethically harvested ingredients
Help your dog with occasional, physical discomfort!
2 oz (59 ml) is a 1-month supply for most dogs (up to 50 lbs).
Indications of Pain in Your Dog
When our canines are in discomfort, it's not always easy to tell because, unlike humans, they cannot tell us and may even try their best to disguise it. It is up to us to be able to notice when our pets are in pain, and we need to look for the subtle changes in their behavior.

Appearance:
Your dog may be unable to groom himself or herself regularly and may become unkempt and untidy.

Behavioral changes:
Your dog may become less active, reluctant to move, trembling, circling. He or she may become protective of a certain body part, not want to be held, touched or he/she may hide.

Physical abnormalities:
Your dog may limp, be unable to put weight on a limb, appear hunched, or want to lay on his/her side more often.

What is Comfort Gold Used For?
It is difficult to watch, knowing your dog is in obvious discomfort. His or her mobility may be altered and enjoyment of daily activities can be challenged. When your canine is experiencing this, it is nice to know there is a natural supplement that can help.

Comfort Gold increases a sense of wellbeing and gentle relaxation, without being sedating. It also supports normal blood flow into all areas of the body. When this happens, nutrients are circulated more widely and cellular waste is carried out for excretion. Comfort Gold supports this normal function of efficient circulation. Your pet may also experience an easy, restful sleep.

Is it difficult to administer?
No. Comfort Gold is enhanced with delicious, natural bacon flavor. We recommend administration of the drops in a way that your canine will like best. (ie: direct orally, on food or a treat).

Why Choose Comfort Gold for My Canine Friend?
- Certified Organic and Ethically Wild-Harvested: This formula is entirely prepared from organically grown and ethically wild-harvested herbs. No endangered plants were used to ensure wild plant populations are protected.
- Good Manufacturing Practices: All of our formulas are manufactured in a facility that adheres to Good Manufacturing Practices.
- Full Spectrum Extract: The full biochemical spectrum of the herbs is preserved to ensure the potency of the extract.  All raw materials are tested for identification and purity.
- Every Batch Tested: Every batch of our Comfort Gold is tested to ensure the highest quality and potency.  Every single batch.
- FDA Registered Facility: Our manufacturing facility is FDA Registered. Strict quality control procedures are meticulously monitored.
- FDA Center for Veterinary Medicine Guidelines:  PetWellbeing.com complies with the provisions of the CVM's good guidance practices for pet dietary supplements. All ingredients and caution statements adhere to these national guidelines.
Comfort Gold is Formulated With:

- Corydalis tuber (Corydalis yanhusuo): Used in Traditional Chinese Medicine, this herb has been used extensively to promote a sense of wellbeing in relation to physical discomfort. It also supports good sleep and normal circulation. It will not cause side effects such as GI bleeding or addiction. It is not damaging to the liver or kidneys. It is one of the best herbs known for powerful, direct action on the central nervous system.
- Fresh Turmeric rhizome (Curcuma longa): This golden herb, a native plant of South Asia, has been used in the health of almost every body system including joints, the digestive system and for the skin. It is also used to support the body's natural responses in circumstances that can lead to discomfort.
- Blue Vervain herb (Verbena hastata): A gentle, restorative tonic herb for the nervous system and physical discomfort perceived through normal feedback responses. This herb supports calmness and positive moods.
- Ginger rhizome (Zingiber officinalis): Ginger is used for a multitude of purposes. Its particular action in this formula is for maintenance of physical responses that can affect muscle health and comfort. Ginger is included at optimal doses to harmonize this formula without being overly spicy to the palate.
- Rosemary herb (Rosmarinus officinalis): A tonic herb for the entire nervous system, Rosemary provides antioxidant properties, calms muscle soreness and supports the body's innate immune response.

... 475 mg per ml (20 drops/ml)

Herbs are certified organic or ethically wild-harvested.

Inactive ingredients: Deionized water, natural bacon flavor, vegetable glycerin
Administer orally up to four times daily for the first 72 hours. After that, administer twice daily for the duration of the discomfort.

Give one drop for every 2 lbs (1 kg) of body weight up to 50 lbs. Over 50 lbs, add one drop per additional 4 lbs (2 kg).

BEST way to give drops! Add to food. Add drops to a small portion of a favorite food or treat and ensure the entire amount is consumed.

Shake well before use. Does not require refrigeration.

We know animals can be finicky! Comfort Gold is enhanced with delicious natural bacon flavor. We recommend administration of the drops in a way that your dog will like best.
Use With Caution

- Do not use during pregnancy.
- Do not use with blood thinners.
- May change the absorption of pain-relievers and antibiotics.
- If animal's condition worsens or does not improve, stop product administration and consult your veterinarian.
- An examination from a veterinarian is recommended prior to using this product.
- For animal use only. Keep out of reach of children and animals. In case of accidental overdose, contact a health professional immediately.