Pet Wellbeing - Spark - Daily Nutritional Greens Supplement (100g)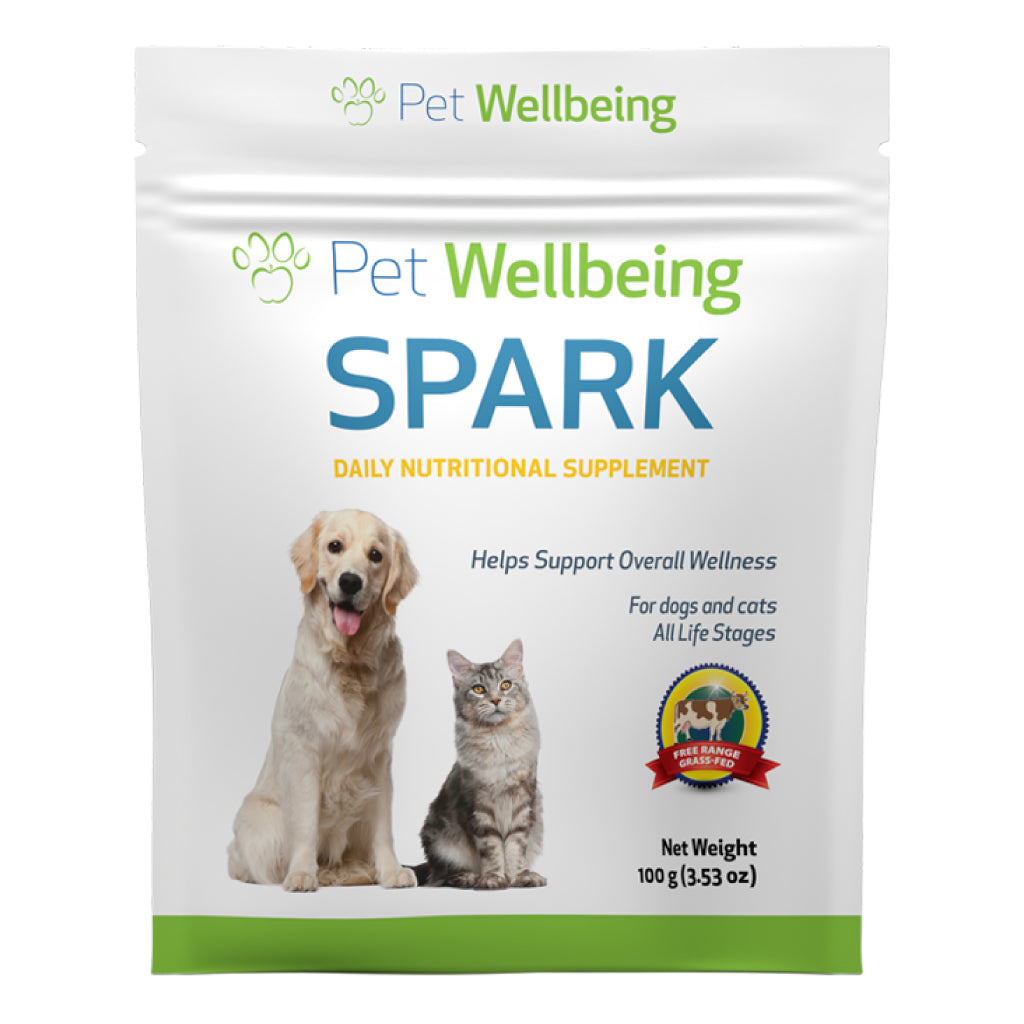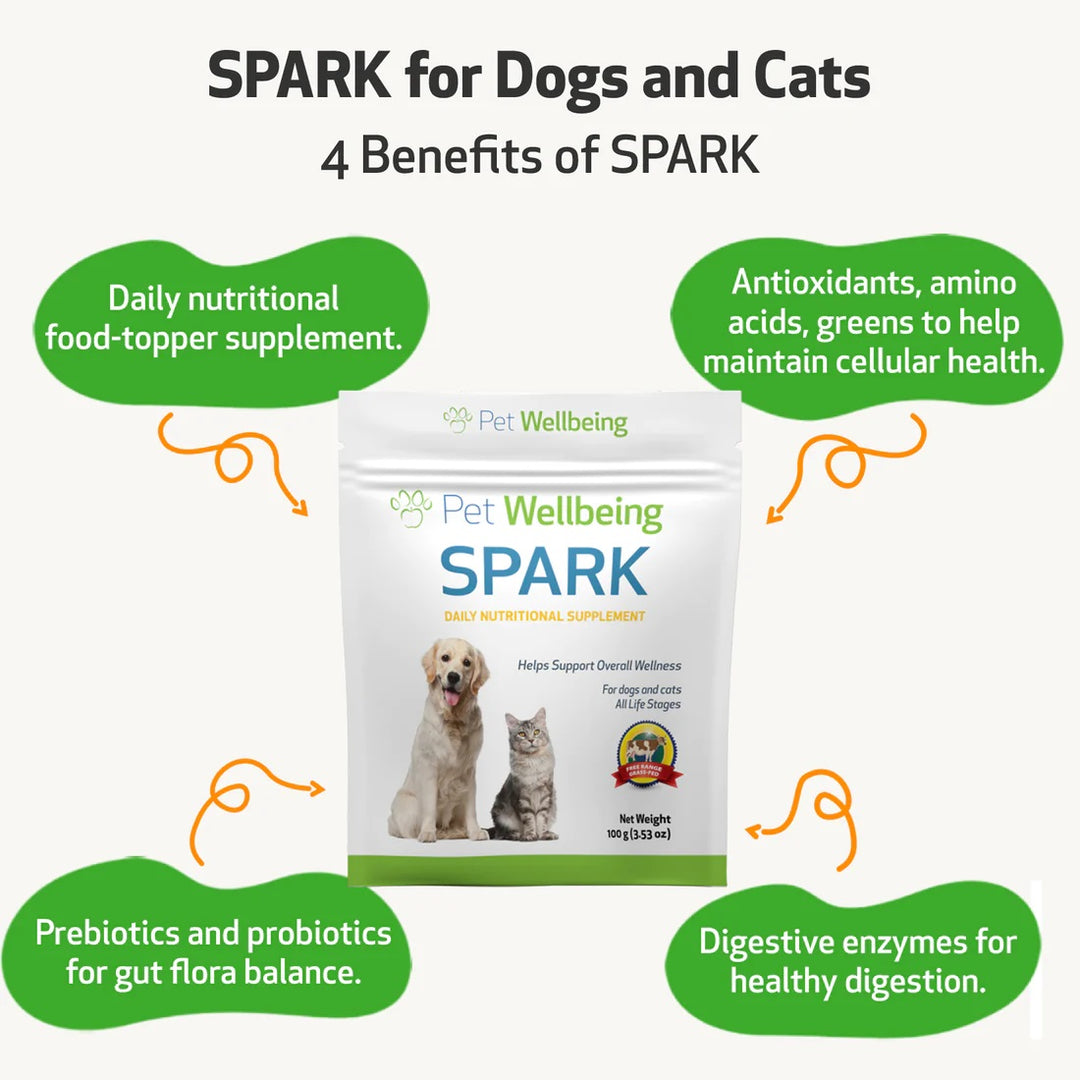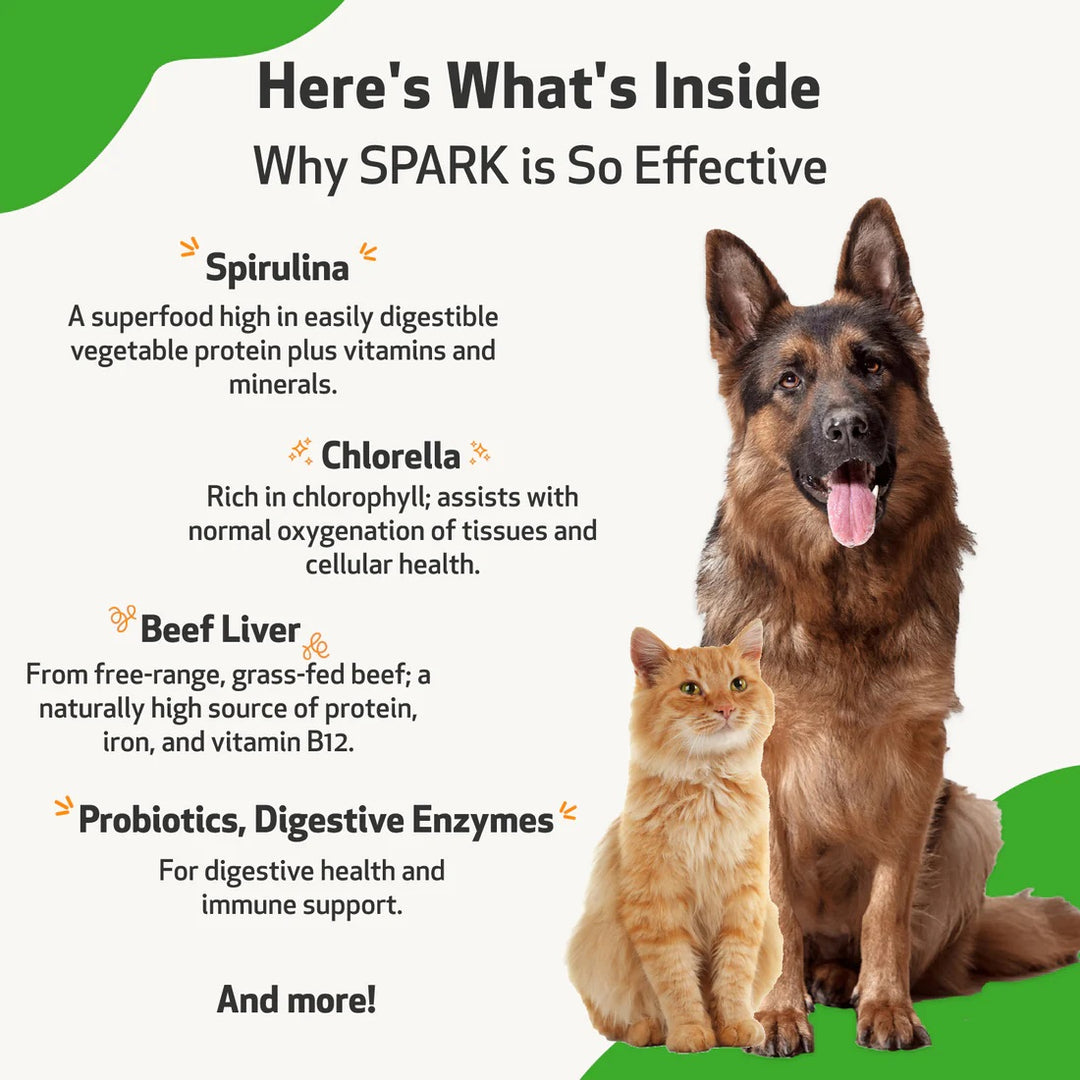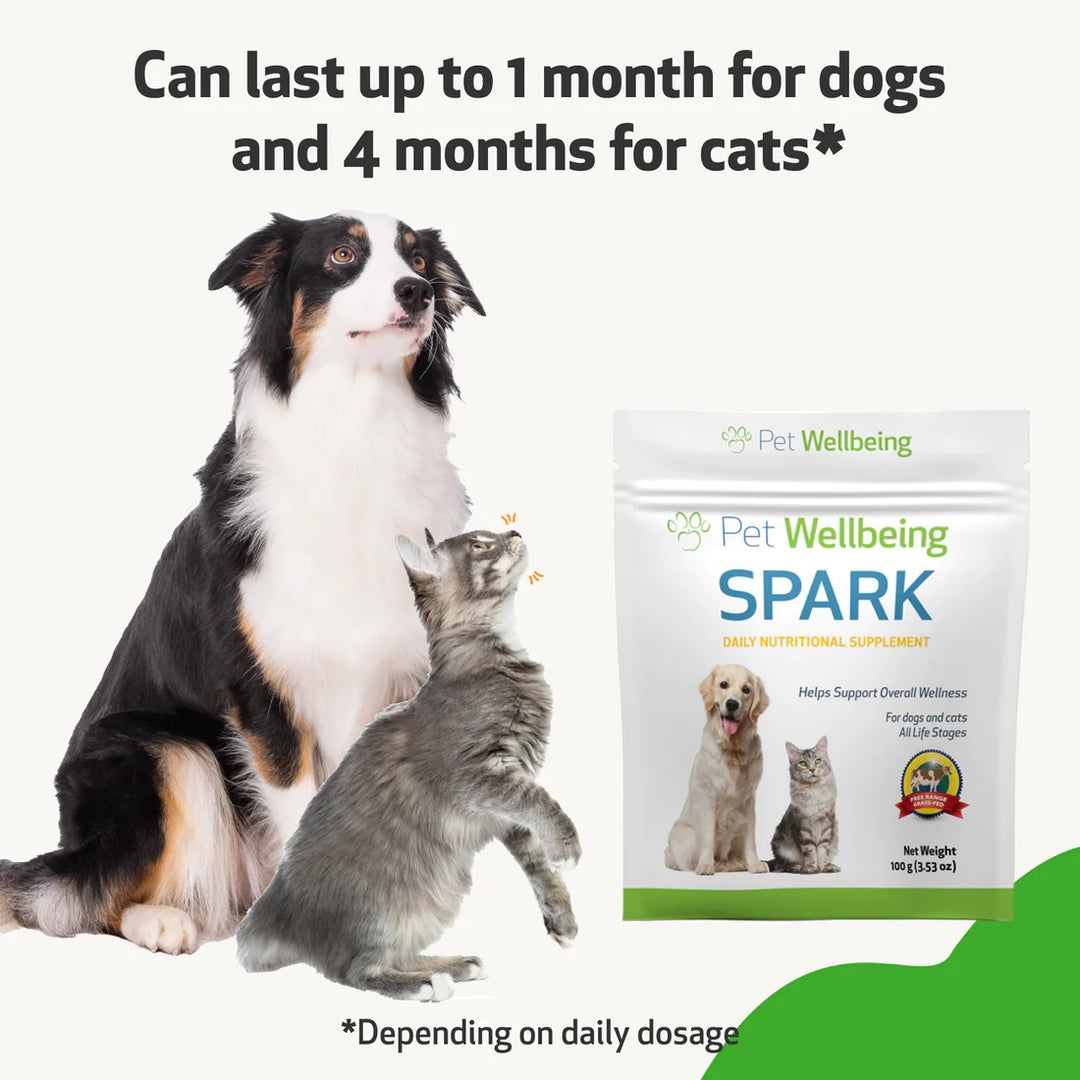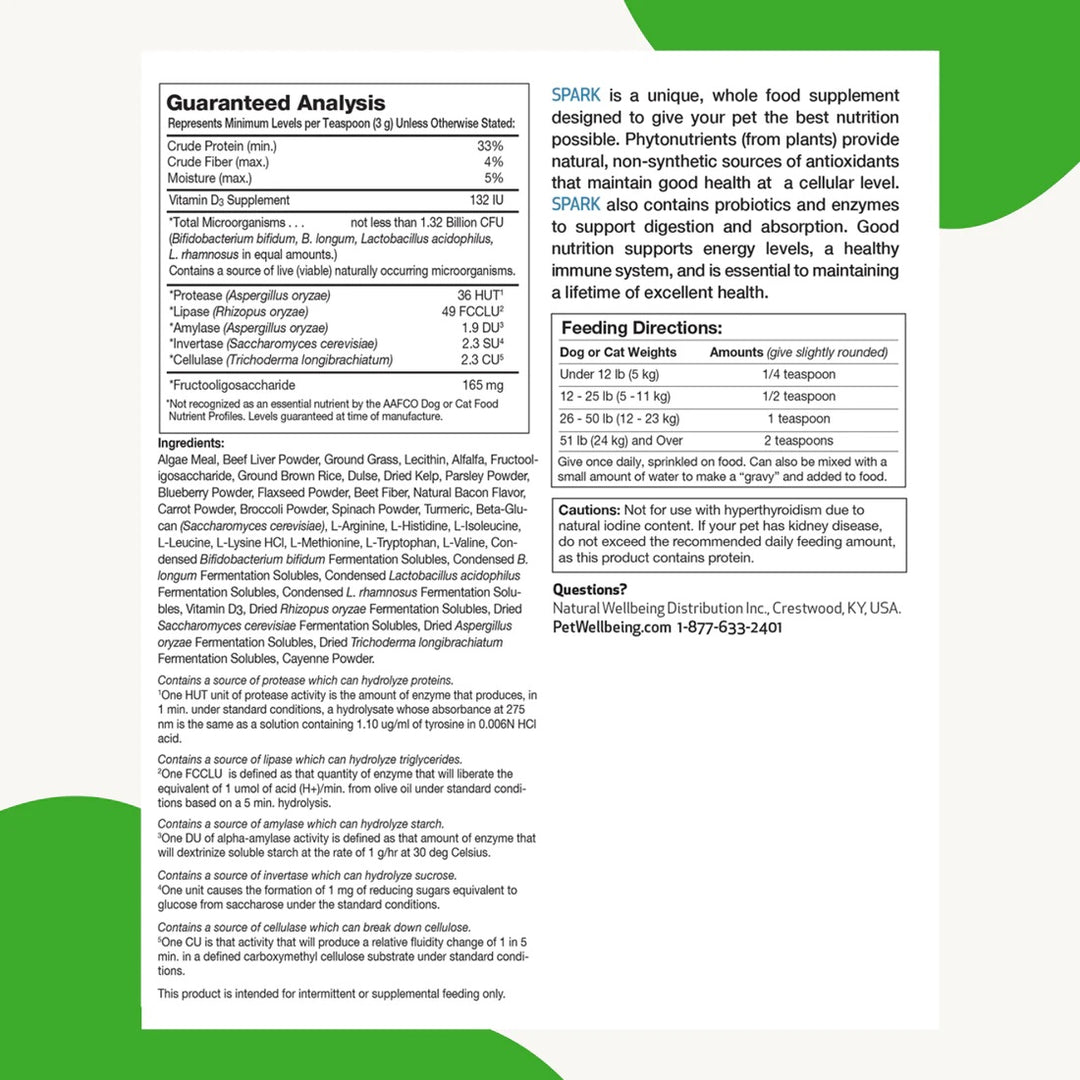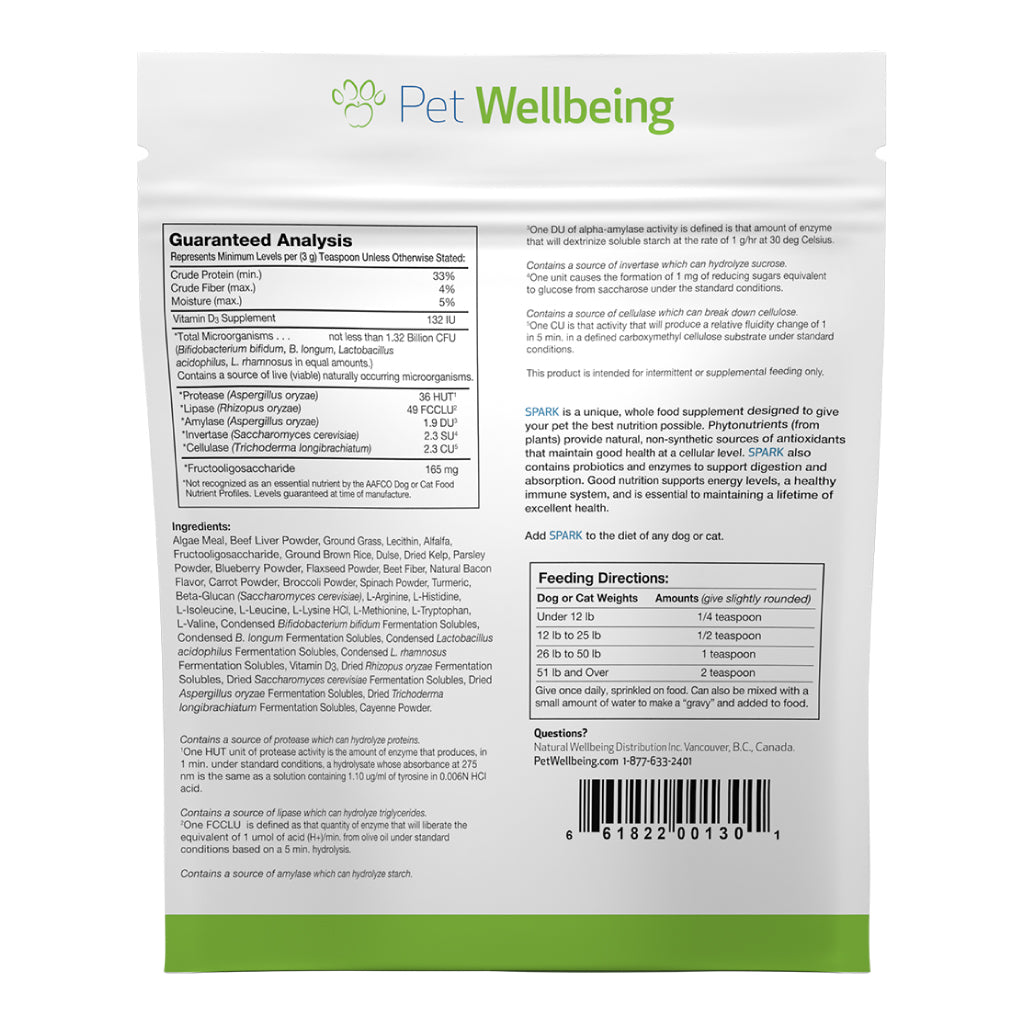 Pet Wellbeing - Spark - Daily Nutritional Greens Supplement (100g)
Regular price
$66.00
$66.00
Sale price
$39.00
$39.00
---
Expiry date: September 30, 2023
Enjoy 10% discount with 2 or more PWB products (excluding kits). Discount reflected on checkout page. Not applicable with discount codes.
Create an account, earn FP Stars and save!
Fast ship-out within 2 work days
In stock, ready to ship

Inventory on the way
What is SPARK?
SPARK is a comprehensive supplement added to food, designed to supply more nutrition. Nutrition that canines and felines can't always get from their diet. A leading naturopathic veterinarian developed SPARK to be a complete, all-in-one delivery of 43 natural ingredients, all researched and synergistically combined for their ability to maintain excellent health. The 8 main components of SPARK:
| | |
| --- | --- |
| Non-synthetic sources of vitamins and minerals | Probiotics & prebiotics |
| Fiber | Vitamin D |
| Fruit & vegetable "superfoods" | Sea Vegetables + Greens |
| Enzymes for digestion | Amino Acids |
For complete and optimal nutrition, add SPARK to your pet's food everyday and watch your pet thrive.
SPARK provides:
Amino acids help maintain cellular energy necessary for good health
Prebiotics and probiotics support digestion
Digestive enzymes to break down proteins, carbohydrates and fats
Protein from free-range, grass fed beef liver
Healthy greens from alfalfa, spirulina, chlorella and more
A 100 gram bag lasts approximately 80 days for a cat and 28 days for a medium sized dog
Many of the ingredients are termed "superfoods" because they are rich in vitamins, minerals and micronutrients available from food sources. These ingredients are easy to absorb and assimilate, and they maintain good health right down to the cellular level. Unfortunately, many pet foods are highly processed and lack the vital nutrients that pets need to thrive. There is a big difference between surviving and thriving. SPARK was developed to give pets the best possible nutrition, so you never have to wonder if they are getting everything they need. Simply sprinkle it on their food. Most pets not only love the taste, they crave it. SPARK is gluten free.

What is SPARK Used For?
Our pets rely on us to provide them with what they need. Giving them daily, optimal nutrition is one way to show how much we care. Good nutrition keeps the immune system stronger, coat and teeth stay healthier, and energy levels and enjoyment of life are easier to maintain. A healthy diet and SPARK give you more peace-of-mind that you are giving your pet the best chance of a good life, for the long term.

Use SPARK for pets of all life stages
SPARK can be added to the diet of any feline or canine.
If you are going to give your pet one supplement, this should be it. I have seen remarkable benefits and I recommend it for the majority of canines and felines of all ages (once they are weaned), and breeds. Cats or dogs that are hyperthyroid should not take this supplement. If your pet has a kidney condition please feed the suggested amount only, using caution.

SPARK gives you the assurance that your pet is getting everything he or she needs. Have you ever witnessed your dog or cat munching grass outside? Though they cannot digest common grasses very well, there is something in the grass that they crave. Most pet foods on the market include a minimum daily requirement of synthetic vitamins and minerals, rather than a full spectrum of nutrients. As a veterinarian, I am dismayed at the ingredients that go into some pet foods, even some of the "good" brands. Even though I recommend a more holistic diet, I encourage feeding SPARK with every type of diet.

The key is: SPARK provides all the building blocks and the foundation for optimal health.
SPARK is Formulated With:

Ingredients on the product label appear in accordance with regulations of the American Feed Control Officials. All ingredients listed on the label are approved dog and cat food supplement ingredients. The following is a breakdown of those ingredients so you can see exactly what is in the product.

- Spirulina: A "super food" high in easily digestible vegetable protein (over 60% protein, including all of the essential amino acids), contains high levels of beta-carotene, Vitamin B12, iron, magnesium, GLA (an essential fatty acid) and trace minerals.
- Chlorella: High in chlorophyll, Chlorella assists with normal utilization of oxygen and aids normal growth.
- Beef Liver: Taken from free-range, grass-fed beef, liver provides a naturally high source of protein, iron and B12.
- Barley Grass, Wheat Grass & Organic Wheat Grass Juice Powder: Cereal grasses provide important vitamins, minerals, fiber, and even protein. They provide immune and digestive support. The young greens are high in chlorophyll. Grasses of cereals are different from the plant's grains and are gluten free.
- Lecithin: High in phosphatidyl choline, a component of numerous membranes in the body, lecithin is derived from vegetable sources. Lecithin also contains small amounts of phosphatidyl serine.
- Alfalfa Juice Concentrate: Alfalfa is high in fat soluble vitamins: A, D, E and K. It is also one of the richest plant sources of trace minerals owing to the fact that its roots extend deep into the soil. It contains eight amino acids and an abundance of chlorophyll.
- Fructooligosaccharides (FOS): Possessing a naturally sweet flavor, FOS are prebiotics, meaning they enhance the action and sustainability of probiotics. Prebiotics also have shown positive effects on mineral absorption.
- Brown Rice Protein: Provides a hypoallergenic protein source.
- Dulse: High in magnesium, iron and beta carotene, Dulse also contains 10-20% protein.
- Bladderwrack: Another sea vegetable, Bladderwrack's trace mineral content makes it an important part of nutritional support.
- Air-dried Parsley: High in antioxidant nutrients, particularly flavonoids like luteolin. Parsley is also an excellent source of beta carotene, folic acid, Vitamin C and Vitamin K.
- Blueberry: Blueberries possess a naturally-occurring constituent called anthocyanins.
- Flaxseed: Contains both soluble and insoluble fiber, contributes to healthy digestion. Also a source of Omega-3 fatty acids.
- Beet Root: Beets provide concentrated amounts of phytonutrients called betalains, notably betanin and vulgaxanthin.
- Natural Bacon Flavor: A taste dogs and cats love.
- Carrot: Phytonutrients include the combined action of two key nutrients: carotenoids (alpha & beta carotenes, plus lutein) and polycetylenes (falcarinol and falcarindiol).
- Air-dried Broccoli: Broccoli contains a unique combination of nutrients in concentrations and ratios not found in other plants. Isothiocyanates, phytonutrients such as glucobrassicin, glucoraphanin and gluconasturtiian and Broccoli's flavonoid content (notably kaempferol).
- Air-dried Spinach: Spinach contains large amounts of neoxanthin and violaxanthin. Spinach also contains carotenoids and flavonoids. Spinach is a source of Vitamin C, Vitamin E and manganese.
- Turmeric rhizome (Curcuma longa) (as Curcumin): The dark yellow-orange rhizome (root) of Turmeric possesses numerous benefits in the diet of dogs and cats.
- Beta 1 3-D Glucan 60%: This is a type of soluble fiber that supports health. Although small amounts are found in foods (such as baker's yeast, mushrooms and cereal grains) it is difficult to obtain beneficial amounts from the diet.
- Amino Acids (L-Arginine, L-Histidine, L-Isoleucine, L-Leucine, L-Lysine, L-Methionine, L-Tryptophan and L-Valine): SPARK contains most of the "essential" amino acids, meaning that the body cannot manufacture its own supply and must obtain them through the diet. Amino acids build the proteins needed to sustain all of the body's cells. Proteins are needed for the body to produce antibodies, the foundation of the immune system. Critical amino acids are needed for many metabolic processes and neurotransmitter functions.
- Probiotics (Bifidobacterium longum, Lactobacillus acidophilus, Bifidobacterium bifidum, Lactobacillus rhamnosus): There is increasing research to show the importance of how probiotics fundamentally contribute to health. Also called "good" or "friendly" bacteria, numerous probiotic species live in a healthy body, particularly in the digestive tract. Probiotics feed on the organisms that can cause ill health, including fungi, "bad" bacteria and yeasts. Probiotics help with digestion of food, gas and bloating and contribute to health in many ways. It is particularly important to replenish after taking antibiotics.
- Vitamin D3: Recent research has shown that Vitamin D's role in the body does more than just contribute to healthy bones. There is mounting evidence that a deficiency in this vitamin can be detrimental.
- Digestive Enzymes assist breakdown and assimilation of :
- Lipase: Fats and Triglycerides
- Invertase: Sucrose
- Protease: Proteins
- Amylase: Starch
- Cellulase: Cellulose (from plants)
- Cayenne fruit (Capsicum annuum): Cayenne contains surprisingly high levels of minerals and Vitamin C. SPARK does not contain enough Cayenne to taste spicy.
Dog or Cat Weights Amounts (give slightly rounded)
Under 12 lb .... 1/4 Teaspoon
12 lb-25 lb .... 1/2 Teaspoon
25 lb-50 lb .... 1 Teaspoon
Over 51 lb .... 2 Teaspoons

Give once daily, sprinkled on food. Can also be mixed with a small amount of water to make a "gravy" and added to food.

Use With Caution
- Cats or dogs that are hyperthyroid should not take this supplement.
- If your pet has a kidney condition please give the suggested feeding amount only, and use with caution.