Pet Wellbeing - Throat Gold - Soothes Throat Irritation in Cats & Dogs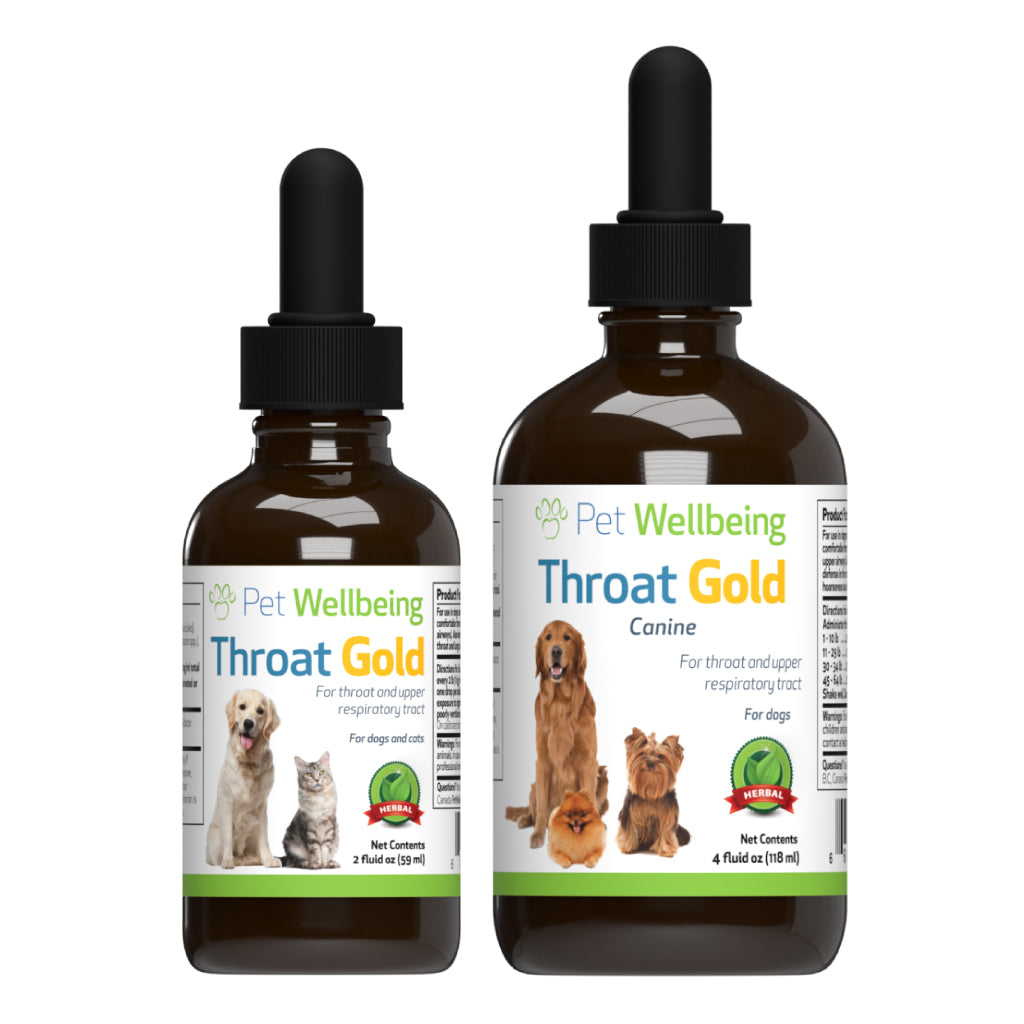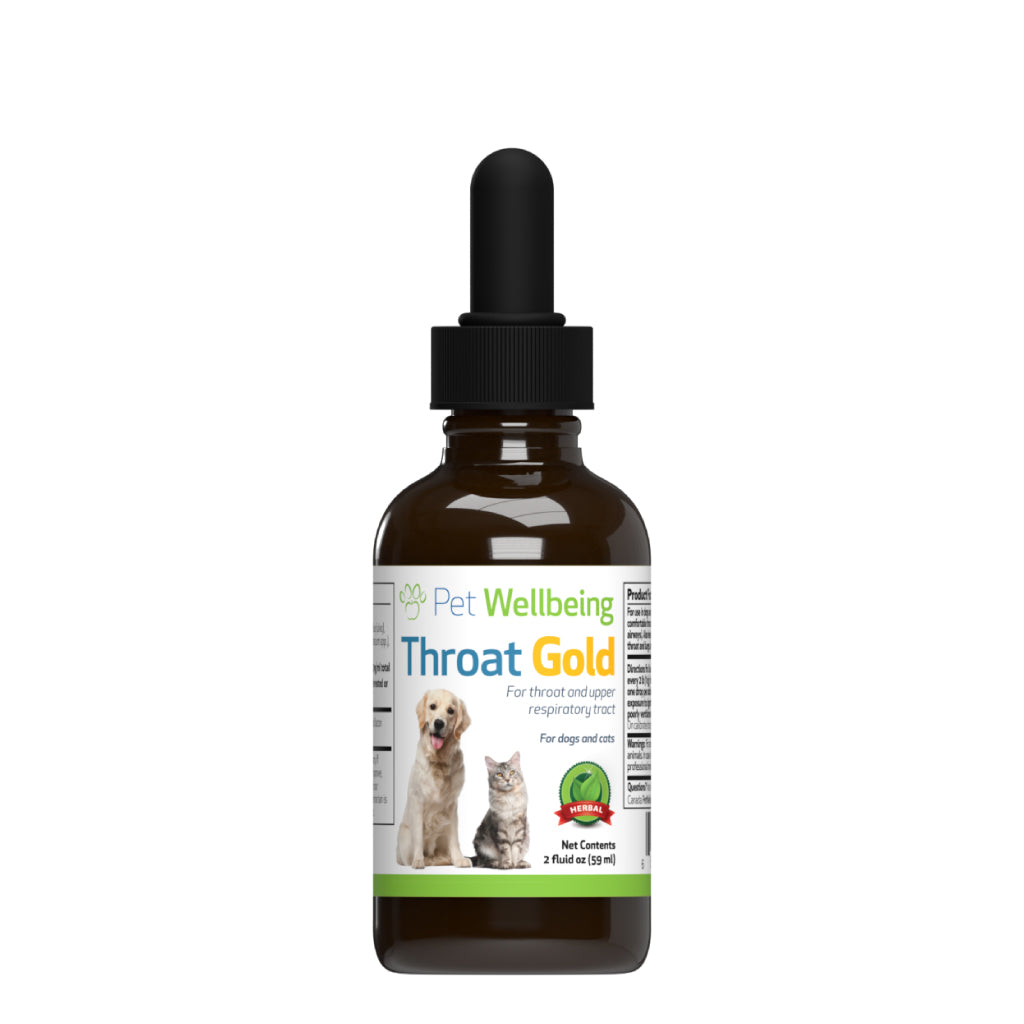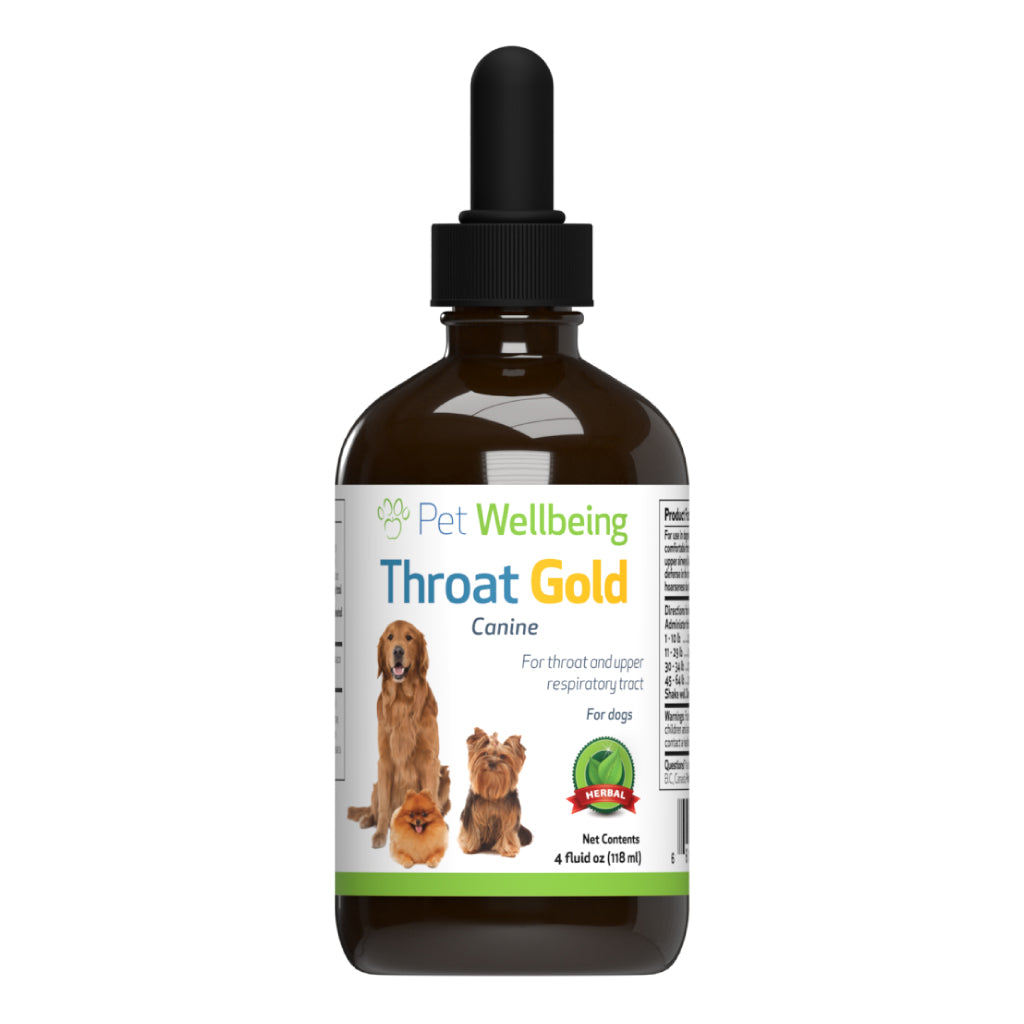 Pet Wellbeing - Throat Gold - Soothes Throat Irritation in Cats & Dogs
Regular price
$126.00
$126.00
---
Expiry date: August 31, 2026
Enjoy 10% discount with 2 or more PWB products (excluding kits). Discount reflected on checkout page. Not applicable with discount codes.
Create an account, earn FP Stars and save!
Fast ship-out within 2 work days
In stock, ready to ship

Inventory on the way
What is Throat Gold?

Throat Gold has been developed using herbal ingredients to holistically support the tissues of the throat and entire upper respiratory tract of dogs. Our veterinarians have selected herbs that address healthy respiration and immunity, but specifically immunity of the throat's tissue surface. Some of the herbs in Throat Gold are termed "demulcents". Demulcents are a type of plant constituent that are high in mucilage content and act to soothe and calm throat irritation, inflammation and cough.
Supports normal immune response to upper respiratory infections and reduces coughing due to throat conditions.
A gentle, natural supplement to support:
Throat comfort for persistent coughs
Normal immune response to infections
Trachea and larynx (voice box)
Order Throat Gold today and soothe your pet's uncomfortable throat.
2 oz (59 ml) is a 1-month supply for most dogs (up to 50 lbs).
4 oz (118 ml) is a 1-month supply for most large dogs

4 oz Value Size is suitable for both large and small dogs

What is Kennel Cough?
Many dogs suffer from kennel cough (also called Bordetella). This canine upper respiratory ailment is a highly contagious condition which – as its name implies – is common among dogs that spend a lot of time in close quarters: in kennels, dog shows, grooming salons, etc. Beyond causing respiratory problems, kennel cough can weaken your dog's immune system and make him or her more prone to catching other canine diseases.

You can help prevent kennel cough (or other canine respiratory diseases) by not letting your dog share toys, food or water with other, unknown dogs. But if he or she does contract kennel cough, Throat Gold will help ease the symptoms and find relief.

Coughs and Respiratory Problems in Dogs
Does your dog cough persistently or have trouble breathing? One possibility is that your dog is suffering from kennel cough or a similar respiratory ailment.

Depending on the cause of your dog's cough or breathing problems, Throat Gold can help. For symptom management of asthma, consider Respir-Gold.

About Respiratory Problems in Cats
Many cats – especially very young and older cats – are prone to catching upper respiratory infections, similar to colds in humans. These tend to be highly contagious, so it's best to keep an infected feline away from others, if possible. Respiratory infections can be serious health conditions in both kittens and elderly cats, occasionally resulting in death. Even in an otherwise healthy and strong cat, respiratory infections are very unpleasant – just as a cold or flu is unpleasant to you. So it's a good idea to get treatment, if only to ease your cat's symptoms. Common symptoms
- Sneezing
- Runny nose
- Watery eyes
- Rattling breath, husky purring
- Asthma
- Snoring
- Reduced energy levels

What is Throat Gold Used For?
Continuous coughing can be strenuous not only for a pet but for a pet owner as well. Throat Gold can help support your pet's immune response to infection. Throat Gold effectively works to maintain healthy tissues in the throat and respiratory tract and eases discomfort. Animals who have stayed in areas with poor ventilation, feel stressed out (such as during travel) or are exposed to cigarette smoke may have less ability to fight infections. Kennels are often places where a pet can pick up an airborne infection.

Throat Gold can also be used for hoarseness of the throat, including leash strain. The ingredients of this formula are highly effective for supporting and maintaining health and comfort of the upper respiratory tract.

Why Choose Throat Gold for Your Pet?
- Certified Organic, Ethically Wild-Harvested and Selectively :  This formula is entirely prepared from organically grown, wild-harvested and selectively imported herbs. We buy from trusted growers only.
- Good Manufacturing Practices:  All of our formulas are manufactured in a facility that adheres to Good Manufacturing Practices.
- Full Spectrum Extract; The full biochemical spectrum of the herbs is preserved to ensure the potency of the extract. All raw materials are tested for identification and purity.
Every Batch Tested: Every batch of our Throat Gold is tested to ensure the highest quality and potency.  Every single batch.
- FDA-Registered Facility. Our manufacturing facility is FDA-registered.Strict quality control procedures are meticulously monitored.
- FDA Center for Veterinary Medicine Guidelines: PetWellbeing.com complies with the provisions of the CVM's good guidance practices for pet dietary supplements.  All ingredients and caution statements adhere to these national guidelines.
Keep in mind, a dog's cough is not an illness in itself. Rather, it's a symptom of some other problem, like:
- Allergies
- Asthma
- Bronchitis
- Dog collar too tight / leash strain
- Irritants like cigarette smoke
- Infectious disease (usually kennel cough)

If your dog is coughing repeatedly from an unknown cause, please seek immediate veterinary care for your dog. Infectious lung diseases (such as kennel cough) can be life-threatening. Throat Gold helps to support comfort in the throat and normal upper airways, but it is not intended as a substitute for medication(s) your dog may need.

You can also help keep your dog healthy by not letting them share toys, food, or water with other dogs, and reducing exposure to cigarette smoke, dust, cold temperatures, stress, and poorly ventilated areas.
Throat Gold is Formulated With:

- Slippery Elm bark (Ulmus fulva): The bark of the Slippery Elm tree contains high amounts of mucilage and is used for soothing the mucous membranes of the throat. Commonly used for cough, it helps to soothe the throat.
- Mullein leaf (Verbascum spp.): Mullein provides support to the lungs and throat. The leaves of Mullein contain mucilage, an important herbal component for breaking up mucous and soothing irritation in the throat.
- Usnea thallus (Usnea spp.): Usnea, also called "Old Man's Beard", supports immunity and works particularly well for immunity of the throat tissues. Appropriate for bacterial and viral conditions.
- Deglycyrrhizinated Licorice root (Glycyrrhiza glabra): One of the most widely used herbs, Licorice root supports the immune system while also providing directly soothing properties for the throat and lungs.

... 423 mg per ml (20 drops/ml)

Herbs are certified organic, ethically wild-harvested or selectively imported.

Inactive ingredients: Deionized water, natural bacon flavor, vegetable glycerin
Administer product orally twice daily.
Give one drop for every 2 lbs (1 kg) of body weight.

BEST way to give drops! Add to food. Add drops to a small portion of a favorite food or treat and ensure the entire amount is consumed.

Shake well before use. Does not require refrigeration.

We know animals can be finicky! Throat Gold is enhanced with delicious natural bacon flavor. We recommend administration of the drops in a way that your dog will like best.

Use With Caution
- Not to be used during pregnancy.
- If animal's condition worsens or does not improve, stop product administration and consult your veterinarian.
- An examination from a veterinarian is recommended prior to using this product.
- Not for human consumption. Keep out of reach of children and animals. In case of accidental overdose, contact a health professional immediately.